Now that I have your attention, let's talk about a few things that can really get your panties in a bunch when it comes to a shared web server and web hosting!
Continuous downtime
Expensive rates
Lack of quality customer service
No technical support
No cPanel
No support forum
Money back guaranteed?
If You Blog, You Need a Great Web Host!
My recent escapade with a previous web host left me frantically seeking out a new best buddy in the web hosting arena. As we all know, there are so many choices out there! Ifyou post up on Twitter or Facebook requesting suggestions, you're going to get a multitude of answers with affiliate links. Guaranteed to make your head spin! Seeking recommendations is a good idea, however, be wary of those who are simply trying to make an affiliate sale.
Time to Research
After doing some research, I was happy to stumble upon articles like:
Yes! It's just not me!
There is trouble surrounding the CPU usage
Ya see, my troubles came when I decided to downgrade my SiteGround shared web hosting account from Grow Big to Startup. I wasn't getting 25,000 visits a month. I was lucky if I was getting the maximum for the Startup account, which is 10,000. So, it was a huge surprise when I received notification from SiteGround that my account had exceeded the CPU resource usage!
I had been with SiteGround for a few years and had this happen only one other time, thus I upgraded. However, this time was different. When I downgraded, I lost the Hackerproof security and was actually HACKED! How the hell did that happen?
After speaking with SiteGround, they recommended I upgrade to GrowBig but would not assist me in removing the malicious software and whatnots that infected my site.
Thus, I scraped my entire site!
I've never been more disappointed than I was the day my beloved SiteGround let me down. This is a web hosting company that I highly recommend to all my clients!
Not anymore!
I've been left with such a distaste in my mouth that I can't recommend it as my top 2 resources for web hosting. How sad is that?
After shopping around and deciding not to jump on the normal bandwagons (Bluehost, HostGator, GoDaddy, etc.), I went with GreenGeeks.
An Intro to my new Bestie!
Let's find out a bit about GreenGeeks (afflink).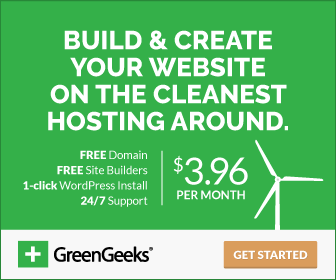 First and foremost, they are based right here in the United States. California to be exact.
But WHO are they?
Since our launch in 2008, GreenGeeks has been the industry's leading green energy web hosting provider putting back 3 times into the grid through wind energy that we consume. We are based out of Los Angeles, California to provide only the best service to customers from over 150 countries. We offer Shared, Reseller, VPS, Dedicated Serverand WordPress Hosting packages for those just starting out all the way up to the professionals. You can rely on us for 24/7/365 support, 99.9% uptime guarantee and a 30-day money back guarantee. You can learn more about GreenGeeks by visiting our company page.
What can they offer?
Let's Look at How Easy it is to Sign Up!
Choose to get a new Domain Name or use an Existing One.
Complete your Account Information, Choose Your Plan, Add Payment, and You're All Set!
After Step 3, you'll receive a few emails from GreenGeeks.
A Thank You letter for signing up and what to expect in the very near future.
A Copy of the Invoice
An Email that Includes pertinent information that I highly recommend you save for future reference: Account Overview, Control Panel (cPanel) and FTP Login Details, Nameservers, Email Settings, and Additionals Services that GreenGeeks offers.
Now, You're Ready to Get Started!
If you're in unfamiliar territory, don't fret. GreenGeeks has fabulous Customer Service to help you with all your needs. Or you can Contact Us and we will make sure we get you all set up and on your way!
Let's Log In!
Did you see that? LIVE CHAT? So many web hosts nowadays don't even offer that! Trust me when I say, it's a FABULOUS chat server and a Live Person!
Once you sign in, you will be led to your Dashboard. Don't be scared! It's very user-friendly!
Click on the CPanel Login.
Eek! Now that might look scary to you because there are so many options but trust me, there is absolutely no reason to be afraid. Live Chat with GreenGeeks or Send Us and SOS on any of our Social Media networks (Twitter | Facebook | Email) and we'll be happy to walk you through it OR do it for you!
Let's Install WordPress
Go to your cPanel and Click Softaculous Apps Installer.
And continue with the video tutorial.
Voila! You're done!
You may be having a bit of brain overload at the moment, but that's alright and perfectly normal! But, with this easy tutorial on Setting Up your new web hosting account with GreenGeeks and the short and detailed tutorial and how to install WordPress on your new shared server with GreenGeeks, how can you go wrong?
So, what are you waiting for? Is it time for you to start looking for a new web host? Or are you just starting out and wanting to move from WordPress.com to self-hosted WordPress.org? Whatever your need may be, we can help you. Even if you aren't needy right at this very moment, maybe, just maybe, sometime in the near future you may think about self-hosting a website and you might just remember this easy tutorial!
The Moment of Truth
After my lengthy post on how fab GreenGeeks is and the awesome video tutorial, how likely would you be to recommend GreenGeeks or this tutorial to your friends? How likely are you to bookmark it for future reference?
Let's chat about it!
For the records, I'm very confident in recommending GreenGeeks to you, my clients and friends and would not recommend any product or service that I wouldn't or don't use myself.